Piece of Many Pieces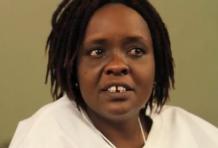 Esther Solonka is from the Maasai tribe in Kenya. At the age of 13, her father thought it time for her to marry and Esther underwent her culture's practice of female circumcision. Around that same time, Celina Muturi, the principal of a local girls' school, unexpectedly gave Esther the chance to attend high school and avoid her early marriage.
I'm a piece of many pieces. My mother died when I was seven years old, and therefore I'm a product of many mothers. Both good and bad, they all brought me up somehow.
I grew up in a small village in Kajiado District in Kenya. I am the last daughter of the second wife of my father, Solonka ole Langa. When my mother died, I moved to live with my stepmother, who at that time was my father's third wife. Life was never the same again; I became the subject of arguments between my father and my stepmother in his efforts of trying to protect me. Struggling in that situation was very difficult in itself; it was even harder to get through primary school, but I did.
When I was in grade 8 my dad thought he had gone through enough battles with my stepmother about me. He thought that marrying me off could relieve him of the burden. I was to get married, at the age of 13, to a man I had never seen and who was more than twice as old as me. Accompanying this proposed union was the requirement of female circumcision, which I went through unwillingly. [Editor's Note: Watch Esther's video to hear more of her experience and thoughts on female circumciscion.]
Although I was not saved from the circumcision, I was saved from the marriage by Celina Wambui Muturi, who was then principal of the Siakago School for Girls. Mrs. Muturi came to my rescue.
Mrs. Muturi had recently taken a trip to Kajiado, where she saw a group of young Maasai girls whom she thought should be going to school, but who instead were looking after animals in a field. She later said to me that she thought: "If I could educate one of them, maybe she can be a role model to the others".
After much investigation and communication with a female friend in a nearby town, I was the fortunate pick for Mrs. Muturi's offer. I had just completed the eighth grade and the marriage arrangements for me were in full gear; dowry was already paid, and only the official marriage ceremony remained. Miraculously, out of nowhere came Mrs. Muturi to the rescue. She shared her vision with my father, and informed him that she was ready to pay my school fees for high school and give me a home to stay if he agreed to stop the marriage.
Mrs. Muturi became the mother I never had. Through her, I learned about how education can empower women to make decisions for themselves. I learned that your parents do not necessarily need to be your biological parents. I learned that education liberates. I learned that women should stand up for their rights at all times. Despite my difficult upbringing and many unlucky circumstances, with the help, encouragement, and love of one dedicated mother figure, I was given incredible opportunities.
Today I am a teacher, activist, and the mother of three girls. Everyday, I hand down lessons I learned from Celina Wambui Muturi to my daughters.
Video Credit: Diana Whitten of Ford Foundation International | Ben Wolford of The Columbus Dispatch
About The Artist
Esther Solonka is Kenyan by birth. She taught high school in Kenya for more than ten years. She is now the mother of three daughters and currently lives in the United States.
Related Content
| | | | |
| --- | --- | --- | --- |
| This visual poem celebrates the strength that many Haitian mothers have displayed in the wake of the devastating 2010 earthquake. | In her series of stark, simple images of women breastfeeding their children, Clare Yow invites us to rethink public breastfeeding. | V. Kottavei Williams' work uses recycled records, boxes, paint, and other materials to depict mothers as powerful, vibrant, and engaged. | Lusina is a member of the Turkana tribe of Northern Kenya. She is the mother of five children. |