What's in a Name?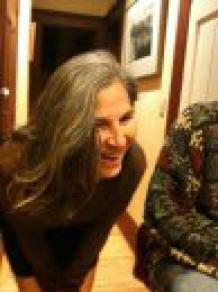 Sarah Buttenweiser is a mother to her daughter Saskia. But so is Saskia's "birth mother" Caroline. In this essay, Sarah muses about how the word "mother" falls short, as an adoptive mother in an open adoption.
A few weeks ago, my daughter, Saskia, was in the mood to chat on the phone. She said, "I want to talk to Caroline." So, I dialed. Caroline, often called "Auntie Cece" (per her request) is Saskia's mother. She's her first mother, or birth mother, or just mother; or she's Caroline; or she's "Auntie Cece," which indeed is how Saskia addressed her during that phone call, which lasted about one minute. Saskia is three-and-a-half years old and she doesn't tend to say a whole lot beyond hello—and then a quick, random report about something that's on her mind. That day, she told Caroline, "We went to the co-op," and, "I can do a somersault. Bye."
Ever since Saskia's birth—and our open adoption—I've wondered a lot about names. I read a lot about open adoptions on blogs, and many of the most critical conversations on the topic are taking place in real time. But the more I read, the more I believe language falls short. Take mother, a title Caroline earned because she's the person who carried Saskia into the world, who gave her life, and who gave her the exact life she has--with us.
Birth mother, first mother, tummy mommy; all these terms fall the tiniest bit short. Who she is to Saskia does not require quantifying with birth or first or tummy. Except the story is more complicated—the mothering of Saskia doesn't stop at Caroline's motherhood. The truth is that I'm Saskia's mother—as in the person notified by school if she's sick and the person Saskia calls mama or mommy. I'm not babysitting on a long-term basis or holding a place for Caroline step in to later. I'm Saskia's mother. I am also, both technically and truly, her adoptive mother.
Again, here is a place that feels tricky to describe, how adoption matters so much and not at all, all at once.
The keystone to our relationships with Saskia—mine, her papa's, her three older brothers, our extended families'—is that she's adopted, in that without adoption, she would not be our daughter, sister, granddaughter, cousin or niece. Caroline, when she decided to have a baby and not raise that baby and allow us to raise that baby, entrusted us with the most incredible gift imaginable. I am not exaggerating when I say that every single day I am awed by the gift and grateful for Caroline's trust. So, I do think about adoption everyday.
I don't think about adoption, though, when I am hugging Saskia good morning, or helping her put her shirt, on or letting her have some chewing gum (with the gum, I think, "Wow, your brothers would never ever have gotten to chew gum at age three, what's happened to me?"). The mundane moments simply happen. We are family going through the motions of being family, the treats doled out, the apples shared, the whining endured. In the moment-to-moment, I do not draw distinctions between the children I gave birth to and the one we adopted.
To a huge extent, it's the daily that makes us who we are. Who we are is more than our accrued experiences, though; who we are has to do with what we bring with us into the world. Saskia notes her skin is "brownish." That's because her father—the birth or first father, whose DNA she carries—is Jamaican. She has never met him, and neither have we. We have no idea what preferences, motions, or expressions of hers come from him. We know only that there must be some, as there are certainly some that come from Caroline. We also know certain preferences and motions and expressions are ones she shares with the rest of her family here, in her home.
As an adoptive mother, I wrestle with these questions. I try everyday to start more compassionate and intricate discussions about adoption. I want to ensure that my children have a chance to find their truths about adoption and connection and identity. I believe grappling with all of this is one of my necessary "tasks" as an adoptive mother.
Here's one thought for this name conundrum that I'm going to continue to mull over: Caroline and I, we are both, both kinds of mothers: mothers without qualifiers and with them.
About The Artist
Sarah Werthan Buttenwieser is a writer, whose work appears in the ebook anthology Welcome to My World, Brain Child Magazine and the Huffington Post, Babble & Bamboo Magazine amongst others. She does some blogging for Teen Life & keeps her own blog--Standing in the Shadows--at the Valley Advocate. She and her dear husband are raising four children and enduring a great deal of chaos in the relatively sleepless process.
Related Content
| | | | |
| --- | --- | --- | --- |
| Lenelle Moise's poem leads us though a queer woman's thoughts and internal inquiet about the process of having a child. | Margaret O'Brien offers this song as a tribute to her aunts and the maternal role they played in her life while her own mother was ill. | Adela could not have children naturally, so she and her husband adopted a daughter. She loves being a mother, and says that she would be sad and lonely if she didn't have her daughter Patricia in her life. | This photo series looks at a unique option offered by Washington State, USA to imprisoned mothers and their children. |