Detachment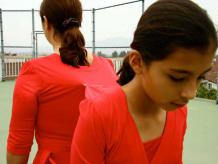 Maria Adela Diaz's video performance "Detachment" explores how the mother-child relationship impacts identity, and expresses the need for a mother and daughter to "detach" in order for both to grow as individuals.
I believe that every women that becomes a mother experiences transformation in their lives, in a positive or negative way. My experience of becoming a mother in my early 20's changed my perspective on life and my identity was reshaped, to a better version of me. I didn't really know what to expect of being a mother, but I knew I wanted to have a successful career and that I needed to take control of my life in a different way.
I come from a patriarchal society where women that are single parents, professionals, self-confident, independent, or rebellious are looked down upon. I struggled to find my own identity. People expect a lot from a mother. Mothers "should be" compassionate, understanding, caring, loving, and of course, in control of their lives. We can't usually fail and if we do, we are criticized by society.
Detachment is a performance piece that I did with my daughter. The bond between a mother and daughter is constantly evolving. In this video, I demonstrate the detachment between a mother and daughter while maintaining an invisible umbilical cord that once linked us together physically, but now only remains metaphorically. It was inspired by the moment when we needed our relationship to move in a different direction, mother and daughter breaking the umbilical cord, for independence and self-development.
About The Artist
María Adela Díaz, was born in Guatemala in 1973. She currently lives and works in Los Angeles California. Her art expresses the essence and sublimity of women. She aims to seduce nature within an everyday context and attempts to transform the observer into a part of her own work. Through different media, such as installations, video-performance, Maria Adela uses her body as the medium to convey her objections to political deception, patriarchal societies and discriminating philosophies. She has exhibited in Guatemala, New York City, México, Paris, she has participated internationally in "Elles" Art Action Feministe, Centro Pompidou (Paris, France, 2009) Estrecho Dudoso, Teorética (Costa Rica, 2006) The Caribbean Biennial (República Dominicana, 2001) Her work is included in the anthology Imagining Ourselves: Global Voices from a New Generation of Women, published in San Francisco by the International Museum of Women in 2006.
Related Content
| | | | |
| --- | --- | --- | --- |
| Margaret Lazarus' film "BirthMarkings" explores our post birth bodies—and how our self-image—change after giving birth. | Catherine Haley Epstein's paintings touch on the many ways women's identities shift and change when they become mothers. | Maggie Gee describes the growing pains she experienced as her daughter grew older and as she attempted to balance work and motherhood. | Kathy Halper's tongue-in-cheek, Facebook-inspired embroideries explore how technology affects the modern mother/child relationship. |