Breakdown in the Closet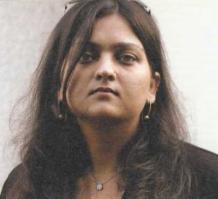 In her work "Breakdown in the Closet," Pakistani/American sculptor Humaira Abid depicts the pain and disappointment that comes along with miscarriage—a frequently unspoken part of many women's experiences of pregnancy and motherhood.
Medium: WOOD (Mahogany and Pine with red wood stain) and Stainless steel, 96 x 72 x 36 inches
In my work "Breakdown in the Closet," I have created a family's wardrobe, carved out of wood. The baby's shirt is fallen on the floor and stained red to represent miscarriage and loss.
This work is a part of a series called "RED" named such because the color red represents love, passion, blood, anger, and loss--all strong emotions. Yes in the subcontinent, red is the traditional color of bridal dresses, and often is associated with love, sexuality, and fertility. Yet in some parts of Africa, red is a color of mourning and death-often associated with the color of blood.
My work is my reality, and always has been. Recent themes in my work have come from my maternal experiences. I have had miscarriages, and I know very well how tough it is, both physically and emotionally.
I am from a country and society where showing your emotions and expressing your opinion is not welcomed--especially if you are a woman. Many experiences and roles of women are not properly appreciated. They are simply considered to be their duty or part of life.
I am trying to raise these issues through my work, which counters the stereotypical image of women in a male dominated society. In an environment where women have a considerable way to go to become full partners of men, I want my work to reflect the aspiration for gender equality.
About The Artist
Humaira Abid (www.humaira.com.pk) picks up ordinary images from everyday life and makes them extraordinary. Her basic interest is situations in 'relationships' and their after effects. Some of her work is humorous, some ironical. Her themes are timeless. The presentation is contemporary. She turns, carves, constructs in wood with great skill and detailing. Humaira is one of a small number of female sculptors to rise to the top of her field in Pakistan as well as internationally. Her commitment to her artistic career is illustrated by her continuous pursuit and participation in number of art residencies, art exhibitions, symposiums and workshops. Humaira's work has gained international recognition for its originality and excellence and has won her a gold medal. She has exhibited her exquisite work nationally and internationally including in Malaysia, India, Mauritius, Nepal, Kenya, Dubai, Bolivia, Germany, Russia, UK and USA. Her work has been exhibited in prestigious galleries and museums throughout the world and been published in books, catalogues and newspapers internationally. Humaira is a graduate from National College of Arts Lahore, Pakistan with Honors in the year 2000. She majored in Sculpture, with Miniature as her double minor. Humaira joined NCA as a lecturer in 2001. Currently she is visiting Assistant Professor at National College of Arts and Beaconhouse National University, Lahore. Humaira lives and works in Lahore, Pakistan and Seattle, WA, USA. She is expecting her first child in February 2012.
Related Content
| | | | |
| --- | --- | --- | --- |
| Wanda Torres' art reflects her conflicting emotions around having children and the reality of her ticking biological clock. | All women should have the right to make informed choices about childbearing and access reproductive health services. Yet in too many places, the right to control one's body and destiny is not recognized. | Artist Miriam Schaer embroidered toddler dresses with quotes that depict the prejudice and hostility women without children face. | Samina Ali tells about her medically dangerous labor and delivery, during which she almost died, and what she learned from her infant son during her long period of rehabilitation. |